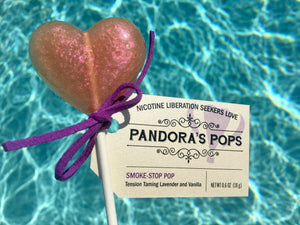 Smoke Stop Pops
Quit Smoking Now Candy: Give Craving Support
These innovative and delicious organic herbal lollipops are for when you have a sincere desire to quit smoking cigarettes. They help stop your nicotine cravings and ease the following withdrawal symptoms: irritability, anxiety, depression, headaches and insomnia. Our hard candy pops include 5 herbs known to support smoking cessation. They contain no nicotine and are not addictive. One of the primary herbs is lobelia (pictured above), which mimics the effects of nicotine in your brain, easing your withdrawal. Lobelia helps reduce the desire to smoke and may make tobacco taste bad or cause nausea if you smoke. For this reason, Smoke-Stop Pops are for people intending to quit, not cut back on, smoking. Lobelia is also an appetite suppressant, which can help with the potential weight gain of quitting smoking. The other 4 herbs infused in the pops help reduce anxiety and stress, improve mood, relieve headaches, support lung health, promote detoxification, and improve sleep. In addition to their herbal effects and delicious taste, Smoke-Stop Pops give you something to do with your mouth and hands instead of grabbing a cigarette, and they make a fun, healthy and elegant conversation piece in social settings.

Flavor: The delicious essential oil flavor mix actually works with the herbs to increase the calming effect, with a soothing blend of lavender and vanilla. Lavender helps relieve insomnia, anxiety, depression, and stress. It was also used in ancient times to tame lions and tigers! Vanilla elevates feelings of joy and relaxation, confirmed by a study published in the Proceedings of ISOT/JASTS 2004. 
Reviews: "Love them !! Helping me to quit smoking .. need to order more 🙂 Quick delivery and a nice note to go along with it 🙂Thank You" ~Michelle Melvin, Etsy customer, November 2017; "I ordered the Stop Smoking pops which I will be ordering more of..they're delicious and helps me with the cravings so far..."~Marissa Pelatti, Etsy customer, July 2017

Suggested Use: Smoke-Stop Pops are intended to be mostly used during the first two weeks of quitting smoking, up to 3 lollipops a day, depending on your cravings. The first two weeks of tobacco cessation are the most difficult, and you will find your cravings subside and your chances of staying nicotine-free rise dramatically. Beyond the two weeks, as necessary, use of these pops is a great alternative to occasional smoking cravings.

Nutritional Info: We hand-make these pops with your health in mind. Organic, vegan, gluten free, no corn syrup, no artificial colors, nut free, no GMOs, no MSG, casein free, soy free, egg free and dairy free. There are no side effects, except when combined with tobacco (possible bad taste and nausea). Discontinue if vomiting occurs. Smoke-Stop Pops are not advised for pregnant and nursing women, children, and people with heart problems (of course, neither is smoking). If you have a medical condition or take pharmaceutical drugs, please consult with your physician before use.
Ingredients: Fair-Trade Organic Cane Sugar, Organic Rice Syrup, Organic Herbs (lobelia, wild oats, St. John's wort, passionflower, chamomile and licorice root), Organic Essential Oils (French Lavender Absolute and Madagascar Vanilla), Spirulina Extract, Pearlescent Mica (Mineral Dust)
Quantity: Available here in 1, 5, and 12 packs. For larger quantities with discounts, please email info@pandoraspops.com. Wholesale for stores and event producers also available.